Motocross Madness 2
MCM2 - A Friday Night Gaming staple
Why is Motocross Madness 2 so much fun for FNG?
FNG has always been a group of gamers who don't always have to win or be competitive to have a good time. With Motocross Madness 2, we get the flexibility of high-flying fun freedom and the encoragement of others to push the envelope for faster laps, higher single jump scores, and best 10-minute stunt round high scores.
To FNG, MCM2 has been about speed rush, sik air, that incredible feeling of accomplishment when you land a huge multiplier, ride it off, and just having a good time.
FNG would like to thank those who have kept, and those who are still keeping Motocross Madness 2 alive. Please take a moment to visit their sites... it is they who perpetuate the replay value of the greatest motocross game to ever hit the video gaming market.
Too bad we can't find Robb Rinard to get him back into making more Motocross Games. Here's to you and your putting your heart into Motocross Madness 1 and 2, and for playing with us on the Zone way back when. "Rubbin' is racin'!"
*HIGH SCORES NOTE: If you want to download a VCR file:
Save to your [base MCM2 Dir]\RECORD folder
(Example: C:\Program Files\Microsoft Games\Motocross Madness 2\RECORD)
High Scores
Back to Top
10-Minute Stunt Rounds
Record Holder
Track
Score
Dave Holland
(Toxic Waste)
Halfgrand Playground
1.85 Million [Screenshot]
Jeff Litster
(That One Guy)
Bear Mountain
1,146,450 [Screenshot] [VCR File]*
Single Jump
Record Holder
Track
Score
Dan Wetzel
(DirtyD)
Mt. Babel 2000 ft. Stunt Paradise
26500 x 7 (185,500) [Screenshot]
Jeff Litster
(That One Guy)
Halfgrand Playground
21600 x 5.5 (118,800) [Screenshot]
Fastest Lap
Some Recommended Settings
Back to Top
These are That One Guy's settings as of 18 June 2005. Preset #3 allows you to bury the needle getting you the best top-speed.
The suspension settings we tweak in an effort to find the best springloading action we can. If you have other settings that have worked well for you, please submit a screenshot to me and we'll post them as well.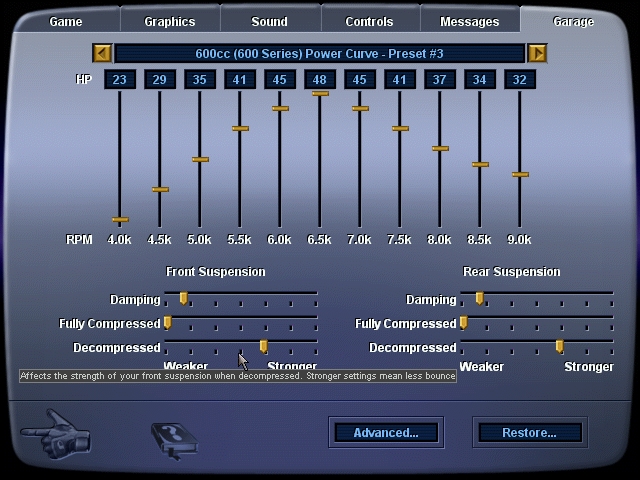 Other Sites
mcm2central.com - The resurrected MCM2 Central website has some helpful hints about how to make Motocross Madness 2 run on your Windows 7 and above computer that has more than 3GB ram, help on bike and rider creation, some hosted tracks, skins and more.
Twisted Dirt - Makers of sik tracks; including the remakes of the original Motocross Madness tracks. They also have some wonderful tutorials on making custom tracks/bikes/riders, etc. They also have a bunch of links to other MCM2 sites.
CameronGraphics.com Cameron Graphics made some of our favorite tracks from the Motocross Madness series, including, but not limited to:
Curse of Giza
Extreme Collision
Swan Hills